Local musician's original songs capture the soul of sentiment – ​​Times News Online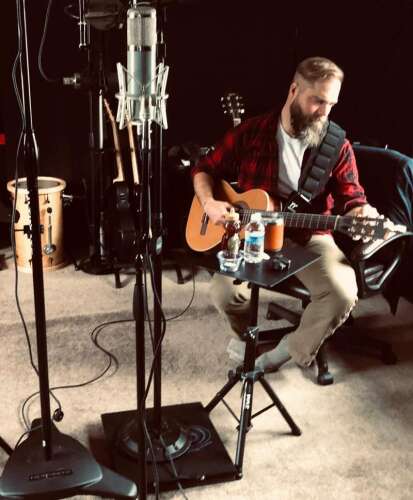 The man. The music. The mantra.
Put all three together and you have the "perfect" Storm – that is, Tom Storm, a Jim Thorpe folksinger who recently performed his debut album, "Growth Rings: Oak" to an audience seated in a circle at the Vic's Jazz Loft at the museum's Stabin Restaurant.
Storm's eight-song compilation, a product of the pandemic, reflects her life growing up in northeast Pennsylvania and her deep soul-searching during the COVID lockdown.
His lyrics, accompanied by the earthy sounds of acoustic and electric guitars, drums, keyboard, accordion, cello, saxophone and harmonica, speak to the very heart of how nature nurtures emotion. human.
The Strings of Sorrow
When asked at what point in his life he decided to become a musician, Storm replied, "I never did," but after his mother was killed in a car crash on Maury Road in Jim Thorpe in 2001, he had found his guitar. standing in a closet and he realized it was a life-changing moment that tugged at his heartstrings.
"She used to sing and play in a local church and she always wanted me to learn guitar," he said. "After the accident, I thought playing the guitar was a great way to keep in touch with her. You never learn to grieve, but through my music, I can feel the inspiration of her voice go through me.
"This is how I deal with my sorrows through my joys."
He brings his mother's guitar and a friend's replica of his father's Stetson hat to display at his shows, as well as the carpet from his house that he and his band performed on at the Stabin Museum.
The soul of feeling
Storm's songs are introspective.
He sings "trying to shake the pain off" and he admits "I don't know where I'm going, but I know where I've been."
Before singing the album's song, "I Could Feel the Water," he urged his listeners to make their own interpretations of nature's compassion for the human spirit.
"There's a surge of emotion every time you look back," he said. "It's kind of a nervous calm."
He had a dream one night when he and his mother were having a conversation. "I was crying in my dream and woke up exhausted like I had just walked 1,000 miles," said the 41-year-old who grew up on a farm in Brodheadsville before moving in with Jim Thorpe at the age of 15 years old.
"We have to relearn how to breathe when we feel loss, and that was the inspiration to write the song 'Another Moment to Breathe,'" he said.
The new album, a creation that spanned 20 years, was engineered by Jim Thorpe's Daedulus Productions and recorded entirely remotely; in fact, Storm's rehearsal before his performance at the museum was the first time he played live music with band members from the album: Matt Miskie, Bob Noble, Doug Makofka, Daniel Gonzalez, and Kyle O'Brien .
The first track on the album is "Oak Tree", which was crafted from a photo he has of his mother standing in front of such a tree near the house she lived in as a child.
Storm's song transcends the elements of nature to the human condition.
"It's the sun that helped us grow," he sang. "Taught us to reap and sow. Then the wind that pushed our determination strengthened our roots, which we wanted to remember.
These are all love songs
"Old World Clothes", its excerpt from the album and "Off Leaves" are feelings of blue-collar family life. "The Space in Between" was written during the loneliness of the pandemic shutdown. The song centers on what little is left when a loved one is lost.
Storm's lyrics define such raw emotion. "All you have to anchor yourself is a touch and a dream. The last time you held on and the space in between.
In the haunting sounds of "Guy Trying," Storm was accompanied by a trio of harmony singers who call themselves "That's What She Said."
"Every song is a love song," Storm said. "If it's not about a person, it's about something in our natural environment, but it's still about love."
Performing a beautiful ballad that bandmate Matt Miskie called "The Best Post-Industrial Song Ever Written About the Lehigh River," Storm and his band personified the water of the river that runs through Carbon County.
"As she laughs, as she cries, she comforts the earth." Storm chronicled the story of the Lehigh and how it evolved from the coal-carrying river it once was to a pristine watershed filled with an invigorating personality that everyone can now enjoy.
To buckle the buckle
For Storm, music is a coping mechanism for the difficult times he has been through in his life. "It's cathartic," he explained. "My mother grew up in Medusa, New York, and I found the house she had lived in.
The owners showed me a wall inside where she drew all sorts of things that came to her mind as she grew up. It was a confirmation for me of who she was as a child, and that message is looped through my songs.
Not all of his music is "moody and brooding" as Storm describes much of his new album. "When I play, I also like to do John Denvery stuff."
Performing at the Mansion House in Summit Hill and the Confessions Tavern in Nesquehoning, his repertoire included a combination of his original work and covers from the 1960s to the present. He is currently working on his next album which will be called "Growth Rings: Ash".
When he's not writing or performing his music, he's a professional photographer and woodworker. He actually helped build the Stabin Museum into a beautiful art gallery, concert hall and restaurant in downtown Jim Thorpe.
When the perfect "Storm" comes full circle, listeners to his songs inspired by the feelings of the soul will find a comforting empathy through his lyrics and an extraordinary understanding of how the events of the past shape the moments of the present.
In his own words, Tom Storm takes you along life's journey with him.
"My music begins in a place of need, but ends in a place of hope."
To order a copy of "Growth Rings: Oak", visit www.tomstorm.live
Local musician Tom Storm is recording one of his songs for his new album. CONTRIBUTED PHOTO