Dixie Sun News » DSU students share feel-good songs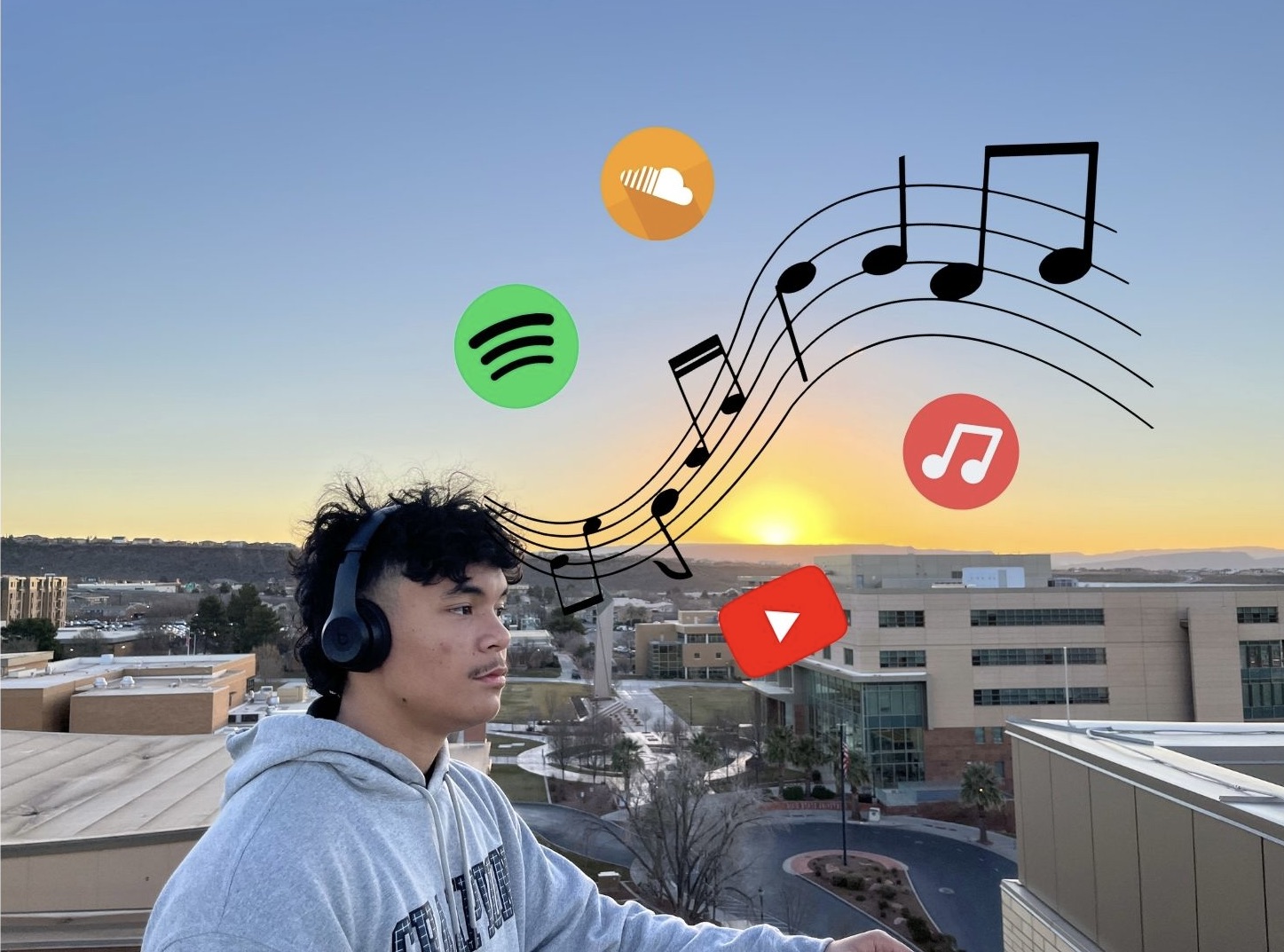 Isaia Gurr, a freshman biology student from Tafeta, American Samoa, enjoys the golden sunrise while listening to some of his favorite songs. The music as well as the sight allow him to relieve some of his stress and transform his mood from bad to good. Urban Trey | Sun Daily News
---
Picture this: you're stressed, maybe a little blue, a little crazy, then you put on this song youhat transports you to your happy place. You are vibrate, sing and your mood went from bad to good, you are beautiful to feel better.
Around campus there are students constantly listen to music with listeners. Whether filling in the silence or setting the mood, here are popular music choices for students on campus.
"You Learn" – Alanis Morissette
Emme Houser, a sociology student at Holladay, said, "I chose this song because it's a reminder to be bold and do things, and if they go wrong, you've learned something from it."
In the song, Morissette sings, "you live, you learn, you cry, you learn, you lose, you learnn", which matches the theme of what college is for studentsa time to be bold and explore.
"Autumn" – Eminem
Jaren Clarke, a recreational sports management specialist from Littleton, Colorado, chose this song because of the way he represents society.
Clarke said, "I like this song because of the rhythm and the way the music describes how society is."
The first half of the song depicts Eminem's drug addiction and rise to fame, and the second half is bad news for the music industry.
"Cool" – Jacques Reid
This 80s synth pop song is what drives Nia Malone, a cadet criminal justice major from Oceanside, California.
Malone said, "It's my motivational song because it makes me feel good about my day and I hope it makes my day better."
With its back beat influenced by the 80s, this song is about having fun and letting go.
"Fire" – Eley
Fire is an R&B track with jazz elements worked in the song. Iit's fun, sweet and has a soulful sound that helps bring the song to life. Nahjae Malone, a junior oceanside sociology major, California chose this as the song that motivates her.
Malone noted, "This I feel like I have power in some way when it comes to being in a relationship, like that person is the fire in my soul.
This song weaves the music and lyrics together in a way that makes you "feel" the lyrics and paints a picture of being in a relationship.
To leave this list will be the starting point for shaking and expanding your reading lists. Take it easy and listen to everyone. Even if it's not your favorite genre, everyone needs a good song they can listen to once in a while.
Related